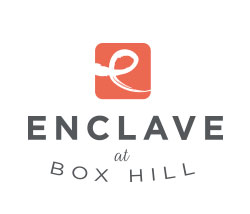 Your Source for All the Goings-On at the Best Apartments Bel Air, Maryland, Offers
September 1, 2015
Harford County, Hold onto Your Napkins: What to Eat at the Best Bel Air Restaurants
We're dying to visit One Eleven Main and Alchemy, two of the newest restaurants to arrive in Harford County this summer—but they still have to prove themselves against some of the best Bel Air restaurants.
From Broom's Bloom to the Sunny Day Cafe, we're talking about some of our favorite restaurants in Harford County. If you haven't been to one of these top Bel Air restaurants, we recommend you add them to your food bucket list immediately.
The best part? These restaurants are less than 15 minutes away from Enclave at Box Hill, so when you move into your luxury apartment near Chesapeake Bay, you can celebrate with a delicious dinner or the creamiest, dreamiest ice cream you've ever had.
Ready, set, order in Harford County's best restaurants:
Caramel Cashew Ice Cream at Broom's Bloom Dairy
Broom's Bloom Dairy is on Maryland's Best Ice Cream Trail for a reason. And we Marylanders take our fresh dairy-made ice cream seriously—even offering Ice Cream Trail Passports you can get stamped with every visit like a world traveler, and potentially win title of "Maryland's Best Ice Cream Trail Blazer." (Seriously!)
Anyway, back to Brooms. If you're in the mood to eat some dinner with your dessert, then you've come to the right place. Broom's Bloom serves some super delicious soups, which are the perfect accompaniment to your ice cream. Try the King Crab soup if you're feeling inclined, and don't settle for plain vanilla—we recommend the caramel cashew ice cream for best effects.
Florentine Crepe at Sunny Day Cafe
The Sunny Day Cafe really is as adorable as its name sounds. Enjoy a homey atmosphere where the coffee mugs don't match, and waiters treat you like gold.
Choose from a bevy of sweet, savory, or breakfast crepes that range from Chicken Cordon Bleu, with white-meat chicken, swiss cheese, honey baked ham, and Mornay sauce. There's also the Nutty Monkey, a delicious nutella, and banana concoction. We highly recommend the Florentine, stuffed with spinach, mushrooms, caramelized onions, Swiss cheese, and creamy cheese and pepper sauce. (This isn't just a ploy to get you to eat your veggies, either. Promise.)
Irish Stew at Sean Bolan's Irish Pub
We can't resist a good pub, and Sean Bolan's Irish Pub delivers on every count: great atmosphere, delicious pub food, and friendly service. It's an all-around good time.
Order up a snack (soft pretzels with honey mustard hit the spot) or go for their Irish Stew, a hearty stick-to-your-ribs mix of lamb, sweet carrots, and potatoes in a full-bodied broth. Best served in winter, yes, but we'd eat this any day of the year.
Chicken Tikka Masala at Sizzling Bombay
We know. We should all branch out and try new foods. But Chicken Tikka Masala is so good—especially at Sizzling Bombay, where the sauce is extra creamy and always the perfect spice level (obviously that's up to you). Pair it with some piping hot rice and a side of Lachha Paratha (whole wheat layered bread topped with melted butter), and you've got a meal fit for the gods.
Chicken Quesadilla at La Tolteca
Mexican food in Maryland? YES, it's possible. We're not sure how La Tolteca MD does what they do, but we give them props. The menu is so hard to choose from—street tacos with chopped steak? Nachos with grilled chicken, chorizo, and fried beans, then covered in shredded lettuce, pico de gallo, guac, and sour cream? Stuffed shrimp with melty Monterey Jack? It's just too hard.
So we'll make it easy for you: get the perfectly crispy, cheesy chicken quesadilla. You can thank us later.
It's time to start eating well. And in Bel Air, it's all possible. Looking for a luxury apartment in Abingdon, MD where you can start living well, too? Get in touch with us at Enclave at Box Hill today. Your new Harford County apartment awaits!
Back To Blog